Montelukast 10 mg Tablet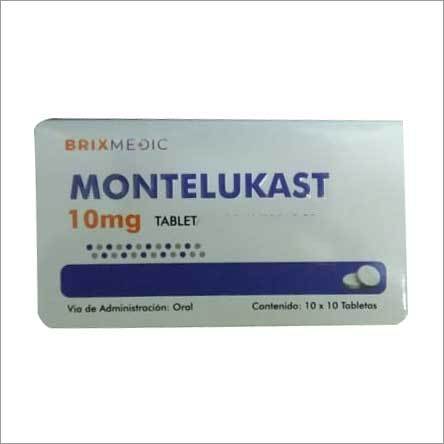 Montelukast 10 mg Tablet
Price And Quantity
Product Specifications
As per physician

Keep dry & cool place
Product Description
Montelukast is a medication used to treat and manage various conditions related to the respiratory system, particularly in asthma and allergic rhinitis (hay fever). It is available in tablet form and belongs to a class of drugs known as leukotriene receptor antagonists.
Some key points about Montelukast tablets include:
1. Indications: Montelukast is primarily used for the treatment of asthma in adults and children above 1 year of age. It is also prescribed for the relief of symptoms associated with allergic rhinitis, such as sneezing, runny nose, and nasal congestion.
2. Mechanism of Action: Montelukast works by blocking the action of leukotrienes, which are inflammatory substances released during an allergic response. By inhibiting leukotrienes, Montelukast helps to reduce inflammation, bronchoconstriction (narrowing of the airways), and other allergic reactions in the respiratory system.
3. Dosage: The dosage of Montelukast may vary depending on the patient's age, condition, and severity of symptoms. It is typically taken once daily, either in the morning or evening, with or without food. It's essential to follow your healthcare provider's instructions regarding the dosage and duration of treatment.
4. Usage in Children: Montelukast is approved for use in children as young as 1 year old, but the dosage may differ from that of adults. Always consult a pediatrician for appropriate dosing in children.
5. Precautions: Before taking Montelukast, inform your healthcare provider about any allergies, medical conditions, or medications you are currently taking, as certain drugs may interact with Montelukast. Also, it is not intended to provide immediate relief during an asthma attack, so always have a quick-relief inhaler with you for emergencies.
6. Side Effects: Common side effects of Montelukast may include headache, stomach pain, diarrhea, cough, and dizziness. Although rare, some people may experience more severe side effects like mood changes, depression, or allergic reactions. If you notice any unusual or concerning symptoms, contact your doctor promptly.
7. Not a Rescue Medication: Montelukast is not a replacement for short-acting rescue inhalers used to treat sudden asthma symptoms. If you experience asthma attacks or worsening symptoms, you should use your rescue inhaler as directed by your healthcare provider.
Trade Information
Cash Advance (CA)

100000 Per Week
1 Week

Central America North America South America Western Europe Middle East Eastern Europe Asia Australia Africa